The Perfect Graduation Dessert Ideas!!
Posted on
Congratulations to all the graduates, YOU DID IT! All those sleepless nights, group studies, dedication (and procrastination) have finally paid off! It is time for you, your family and friends to celebrate your success and more importantly, YOU! You deserve to have the bragging rights for successfully achieving your goals and of course, the best graduation party EVER! A memorable and fun graduation party absolutely cannot be without tasty and memorable graduation dessert ideas! With our custom cookies, you will definitely have some of the most unique and memorable graduation desserts on Earth! Way to outshine your friends once again!
So parents, let's take a look at our magic of turning your graduates into cookies that look just like them!
The perfect GRaduation dessert ideas for every party!!
About a month ago, Joe and Maureen reached out to our specialty bakery in hope to make their son Mike and daughter Emily into custom cookies to make for unique graduation dessert ideas! It was such an honor for us to be part of these wonderful graduates' celebration! As soon as we received and processed Joe and Maureen's order, we started designing Mike and Emily's artworks right away.
Mike's initial proof is quite handsome just like himself! However Joe and Maureen felt that his eyes could have been more defined and bigger as they believe Mike's eyes are his best features. Unfortunately, his picture did not capture them that well.
As for Emily's proof, Joe and Maureen really liked the right proof with Emily's eye lashes and cheek added. However they wanted to see how the artwork would look like if her hair was curlier as her hair naturally has tighter curls. The adjustment requests were not a problem at all because we do offer one initial proof and up to three revisions at no additional cost!
As soon as we finished processing Joe and Maureen's adjustment request, our artists did their magic and voila, we had two new artworks to send to the parents! Both Joe and Maureen really liked Mike's artwork and they decided to go with the first right artwork of Emily! Yayyyyyyy! The whole customizing process was that fast and easy!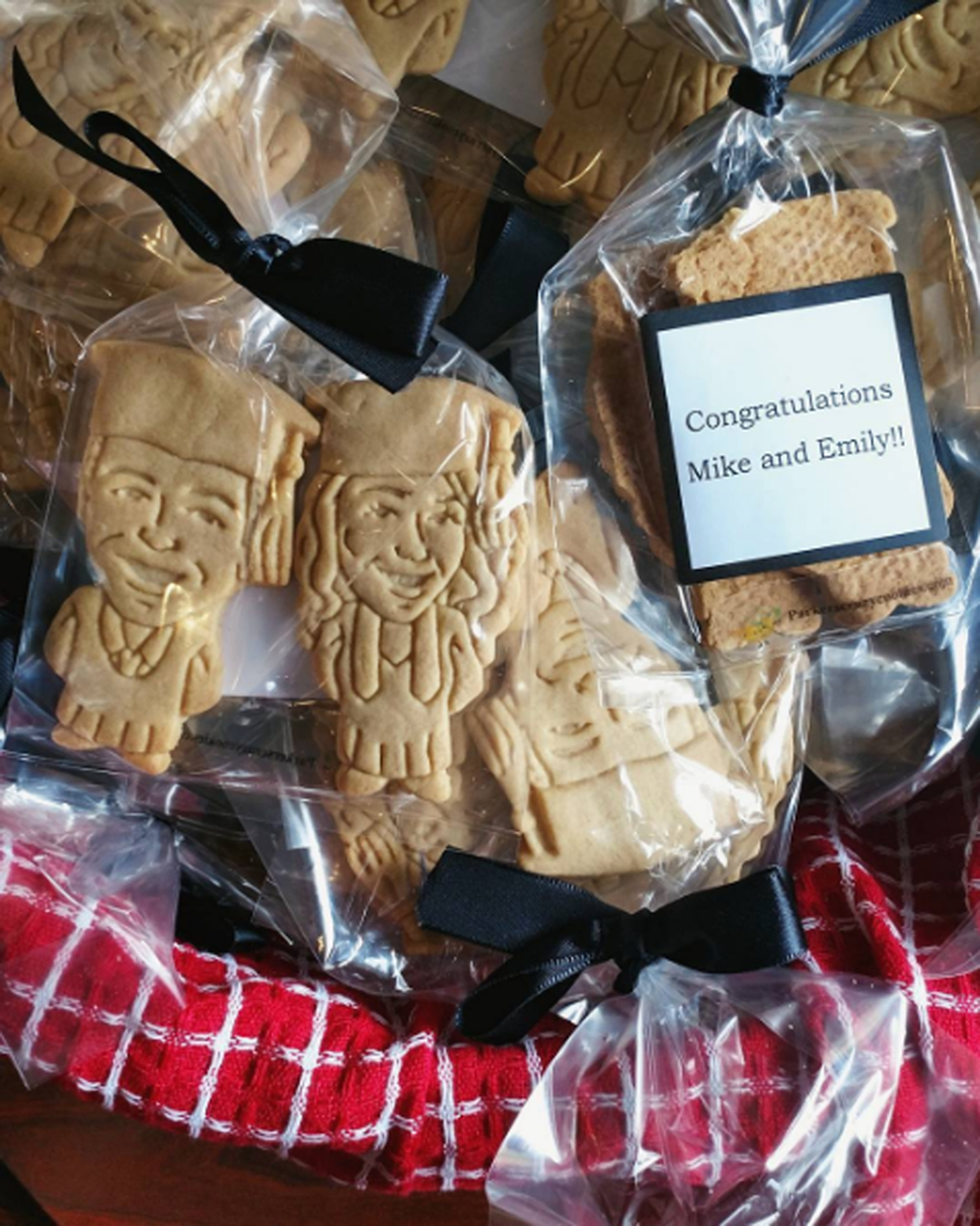 After receiving their cookies, Emily shared this picture with us they were the cutest graduation dessert ideas! Congratulations Emily and Mike! We wish you all the best in your future endeavors!
If you want to have the most unique graduation dessert ideas at your next grad party, order here !
If you still need time to decide, try us out by requesting a sample here!