Funny Anniversary Party Favor Ideas for Couples Who Love to Laugh
Posted on
Love and laughter go hand in hand, don't they? We sure think they do! When you're planning an anniversary party, you might want a treat that will bring some mirth to the romantic event. If so, we have just the thing for you and your funny anniversary!
Our super fun, super adorable personalized couple cookies are a surefire way to bring peals of joy to any party! Your guests and your special someone will laugh out loud as they snack on these delicious treats that look just like the happy couple!
Check out these funny anniversary cookies that we've had the pleasure of making over the years! These cookie couples sure know how to have a good time!
Unique and Funny Anniversary Cookies for Fun and Unique Couples!
Nick helped his parents celebrate their 51st year with these adorable cookies! Dad loves to fish and everyone loves the family's puppy pal, so of course we couldn't leave anyone out! Just like this happy couple, you can capture everything that makes your relationship special with these fully customized cookies!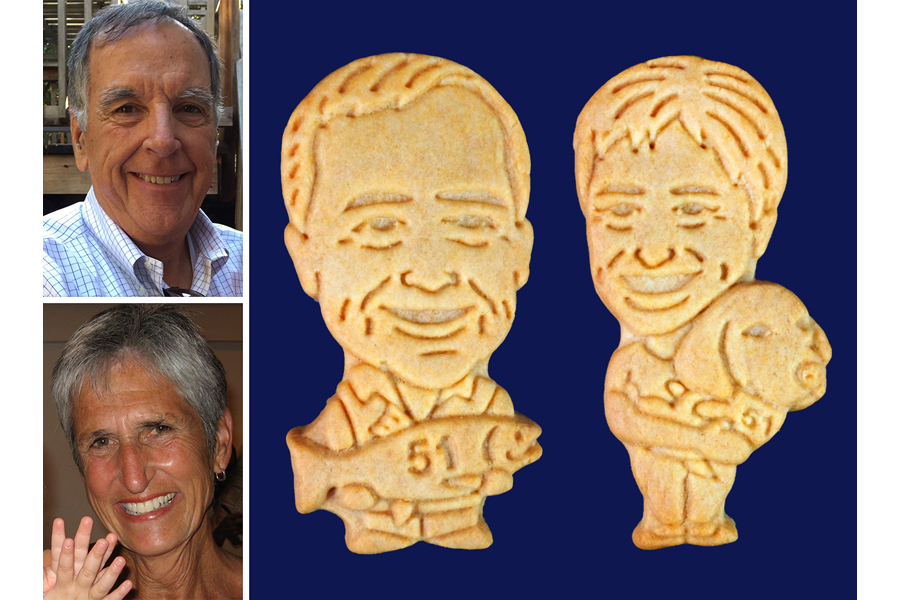 Ready to flaunt your funny anniversary style? Show off your sense of humor with a hilarious set of matching hats! These lovebirds are celebrating 50 years in an outrageously funny fashion!
Better yet… show off your funny anniversary style and the special third member of your family like this couple! We loved making this family portrait into an adorable couple cookie, so we just had to revisit it today!
Laughter is a vital part of any enduring relationship, so it should be a part of your anniversary celebration too! Bring some hilarity to your funny anniversary party and customize a couple cookie for your event! Add your unique interests to the design, or the family pet… or even some outrageous accessories to show off your love in style!
Create a personalized anniversary cookie for your party today!