Fun Grad Party Ideas for All Ages!
Posted on
When you think of a grad party, what do you normally think of? Sometimes it's difficult to come up with a fun graduation theme that would appeal to all ages of graduation. You may need an idea for your fifth grader going onto sixth grade or for a college graduation. Look no further! Our personalized, custom cookies make great grad party ideas that all ages can enjoy!
Grad Party Ideas For You and Your Loved Ones!
Everyone deserves a fun graduation party. And what better way than to celebrate with fun, little  caricatures of themselves in the form of a cookie? We pride ourselves in making cookies that look as close to the person in the picture as possible. Even if we don't get exactly what the customer wants the first time, we'll work with them until it's approved!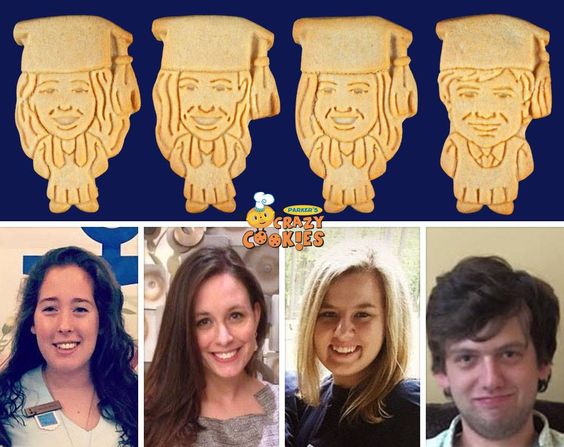 With so many graduates, there's no wonder there would be a lot of revisions. Each graduate had to have a unique and individual style to differentiate them or else they'd just look like a generic cookie. With their different hairstyles, we were able to bring a whole lot of personal touches to this grad party!
A lot of grad party ideas are for either high school or college grads. But what about the little fifth graders going on to sixth grade? Some may argue that it's only a promotion, but we here at Parker's Crazy cookies see it as a great chance to celebrate! Any graduation deserves recognition. Elaine wanted something special for her little girl's graduation and our cookies proved to be just the thing. Her cookies were a big hit and the guests were amazed at how detailed they were!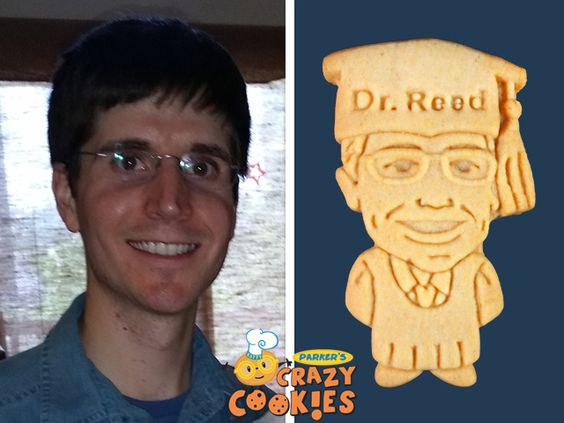 When you graduate from medical school, that is a grand reason to celebrate! We're always happy to bring the fun to any grad party ideas. The newly graduated Dr. Reed was surprised by our custom cookies, personally made to look like him.