Fun 16th Birthday Ideas!!
Posted on
Read on for fun 16th birthday ideas!!
It's her Sweet Sixteen!! Show your daughter how special she is by making her into a custom cookie for her Sweet Sixteen Party! We know that the teenage doldrums are ever exaggerated this year so it is our mission to make sure your daughter will have the best Sweet Sixteen Party Ever!! Crazy cookies definitely top the list of fun 16th birthday ideas!!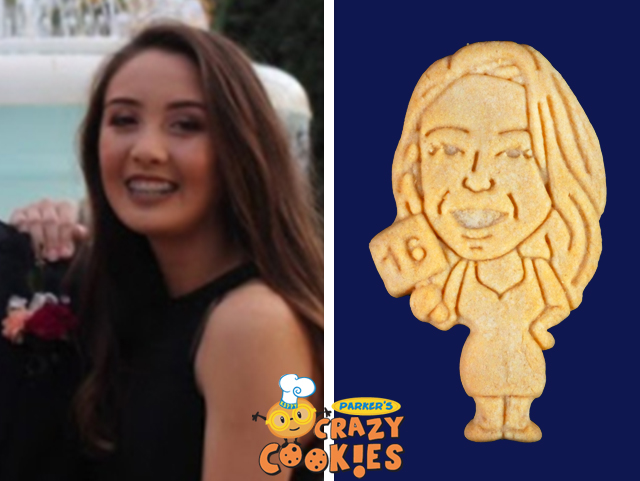 This young lady was turning 16 so her mother wanted her cookies to hold up a sign showing her new age!  Thus, we took extra special care in making sure all of the details were correct, including needing to change the cookies' outfit or squaring up the chin a bit more. Our continuous conversation with our customers is our most important and prized step. No matter what the critique is, we will design a cookie that is right for you as well as complements all 16th birthday party ideas!
It's his Sweet Sixteen Party!
Add a platter full of cookies of your very special 16 year old  and watch as only laughter and crumbs are left behind! We all know that growing boys can eat a lot. So, we can bake as many cookies as your guests can eat!! Our cookies are perfect as fun 16th birthday ideas for both boys and girls!
This young man's mother wanted to show off her son and his love for his favorite sports team, the Golden State Warriors. We had some back-and-forth about sunglasses and how "cool" to make the cookie look. Plus, the results didn't lie; this charmer definitely rocked his Sweet Sixteen Party!
Create the Best Sweet Sixteen Party Ever with Our Super Fun 16th Birthday Ideas!!
Fill your home and party with spectacular goofiness and simply enjoy eating fun art of people you know! Parker's Crazy Cookies is here to help you with all of those Sweet Sixteen Party Ideas!! So give us a call at (510) 516-5714 or find us on Twitter (@crazycookies) and Instagram (@parkerscrazycookiesllc).
Ordering from us is just a click away! Join us on our Custom Order Form to begin your tasty party!